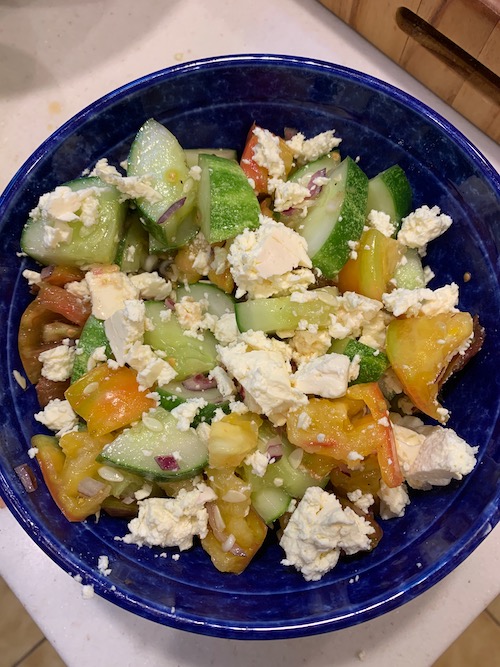 We would like to share one of our favorite salads with you. Our organic cucumber and heirloom tomato salad.
This salad is super light and goes with just about anything.
It is a perfect way to use your organic cucumbers and organic heirloom tomatoes.
Organic Cucumber and Heirloom Tomato Salad Recipe
This recipe is perfect when you have fresh organic cucumbers and organic heirloom tomatoes ripening at the same time.
Ingredients:
2 Organic Heirloom Tomatoes
1 Organic Cucumber
1/4 cup finely diced Organic Red Onion
1/2 cup Feta Cheese
2 tablespoons Extra Virgin Olive Oil
1 Tablespoon Red Wine Vinegar
Salt and Pepper to taste
Directions:
Cut cucumber and tomatoes into same size pieces.
We like to slice the cucumber lengthwise and then slice it lengthwise again. Then cut into 1/8 inch thick slices.
Match the size of the slices with the tomatoes.
Add the finely chopped red onion and mix gently.
Add the extra virgin olive oil and the red wine vinegar.
Add the salt and pepper and toss gently.
Crumble the feta cheese over the top and enjoy!